FREQUENTLY ASKED QUESTIONS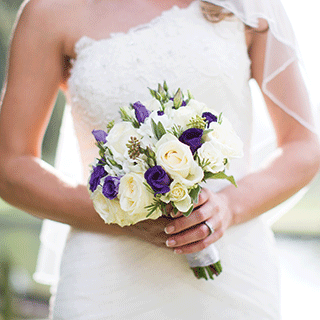 I am giving notice of marriage but realise my decree absolute only shows my married name and I have reverted back to using my maiden name. Can I still attend the appointment?
You will need to bring a copy of your marriage certificate to show the link between the surnames; alternatively, you could use a child's birth certificate as it shows both your married name and your maiden name.
I have lost my decree absolute – can I still give notice?
You cannot give notice without producing an original copy of the decree absolute. Copies can be obtained from the county court where your divorce was heard.
Can I be 'given away'?
Yes you can. The person giving you away can be your father, mother, relative or a close friend. Please mention this on your checklist.
Will the cost of my ceremony increase?
Fees are reviewed by the council each April, so you could be liable if the price increases.
​
I have noticed an error on my certificate, can I just cross this through and write the information correctly?
The certificate is a copy of the legal record of your ceremony and cannot be amended. A correction (at a non-refundable cost of £75 or £90 depending on whether it can be approved locally) needs to be made to the entry, following proof of the correct information. You will also need to purchase a new certificate with the corrected information. Please apply to the office that dealt with your ceremony. This is why you are asked to carefully check the record before you sign it during the ceremony!
How shall I provide the music for my ceremony?
If your ceremony is in a council ceremony room in Cambridge or Huntingdon, you can provide a CD of your chosen music for our staff to play or you can ask a guest to play music via Bluetooth from the sound bar. March and Ely offices offer a CD player only. Generally you need three pieces of music, one for the bridal party entrance (about two minutes long), one for the register signing (about ten minutes long) and one for the bridal party exit (about two minutes long).
If your ceremony is at one of our venues, please discuss this with the event coordinator. Please make sure your choices are not religious. You need to let us know the tracks and performer when you return the checklist.
What time should I arrive for my ceremony?
If your ceremony is in a council ceremony room, please arrive about fifteen minutes before, allowing for traffic. Please indicate on your ceremony checklist if you wish to make separate entrances into the ceremony and our staff will arrange this.
If your ceremony is at one of our venues, we allow slightly longer due to travel time and usually meet the couple, together or separately as advised, in the half hour before the ceremony start time.
It is important we start ceremonies on time, so please do not be 'fashionably late' as we may have to reduce the content of your ceremony in order not to disadvantage the next couple.
How many readings can I have at my ceremony?
For council ceremony rooms there is the option to have one reading; in our venues you can have two readings. Don't forget the content cannot have any religious meaning.
Can your staff be witnesses?
This is not possible due to conflict of interest and our staff being busy attending to other customers. It is your responsibility to provide witnesses, who should be over 18 and able to understand the words and meaning of the ceremony.
Can we write our own personal vows?
The legal vows will be spoken by the registration staff first with you repeating - in small chunks of about 4 or 5 words to make it easier for you.
​
For ceremonies at venues, couples can say personal vows to each other, which can either be chosen from our selection or written by you. With personal vows, it is nice if you say these to each other, and if you have chosen our vows we will arrive with cards so you can read from them. If you would like to write your own vows, please send a copy with your checklist for our approval, print them out and give them to the registration staff on the day. Please don't add to the stress of the day trying to memorise them!
Will we meet the staff that will marry us?
It would be unlikely you would meet with the staff marrying you, due to local staffing structure, staff holidays and absence. Our staff are highly trained in conducting ceremonies, so feel comfortable performing them and delivering the best ceremony they possibly can for you. They will use your checklist in order to include all your ceremony requests within their ceremony script. Yours will not be the first ceremony they have performed, so rest assured they will give you a professional service.
Do I need to bring ID on the day of my ceremony?
No, just bring yourselves. Your witnesses do not need it either. The only occasion we would ask for ID is if you change your name by Deed Poll between giving notice and the ceremony, but you could also do this by dropping into one of our offices beforehand.
Can someone registered as blind be a witness at my marriage ceremony?
Yes they can, as the declaratory and contracting words are spoken. We also have aids to help them sign the register.
My ceremony is in a room that can take fifty guests, but we also have five children coming, is this ok?
Sadly, no. The numbers quoted always show the number of guests and do not include yourselves, two registration staff and a photographer. The number is set by health and safety guidelines and relates to the number of heartbeats in the room, so cannot be exceeded.
I am a volunteer at a wildlife charity and it is my lifelong ambition to have the rings flown in by an owl. How do I arrange this with you?
You are very welcome to have animals or birds (pets or otherwise) on the premises at an Approved Venue. All we ask is that they are not in the room when you / your future spouse's details are being checked nor in the ceremony room itself (and outdoor spaces in the immediate vicinity of approved outdoor "rooms") until after we have left.
Formally registered assistance animals are permitted, with prior agreement from ourselves - for example guide dogs and hearing dogs who are important to their owners at ceremonies. Please provide details so we can make a note on your booking to inform those attending on your special day.
Can you ask our guests not to post anything on social media until we have posted first?
This is not something we can ask, but a very useful thing to include on your invitations or order of ceremony sheets.
​
We have been asked by a film company to have our wedding filmed. Is this ok with you?
You need to ask the fim company to get in touch with us first as there are legal agreements to be considered which must be checked in advance. If they just turn up on the day, they will not be allowed to film. We have featured in several programmes recently, which have been very exciting for all, but they do take some organising!
​
Can I bring fresh flowers for my ceremony at a council ceremony room?
We have limited space in our ceremony rooms, which are already decorated with silk flowers. Your bouquet will go on the table where you sign the register so it will be in your photos. If you wish to bring fresh flowers, you will have to place them in the room at the start of the ceremony and remove them at the end of your ceremony.
My partner does not speak English, so you provide a translator?
No, you need to provide a translator, who will sign as a witness to the ceremony. If you have any other difficulties with speech or language, please let us know in advance.
What actually happens on the day?
You will arrive at your venue and meet the registration staff who will check your details either together or separately. One of them will then go into the ceremony room and give the housekeeping notices regarding photos and telephones. Your entrance music will start and you will be invited to make your entrance, and so your ceremony begins.
Your photographer (or nominated person if using a friend) can take non-flash photographs throughout the ceremony and your guests will be invited to photograph your arrival and after the signing. If having a video, the videographer needs to be in a static position and able to stop filming when the register or schedule is being signed.
Once you have made your vows and declarations, you will sign the register or schedule, having checked carefully that it is correctly written. For marriages, if you have paid for one or two certificates you will receive them in the ceremony and if you have paid for more, they will be posted to your home address. For civil partnerships, your certificate will be posted to your home the next working day once the schedule is entered onto the system.
You will then be invited to lead your guests out to have photographs outside and on to celebrate!
​
We hope you have a very special day!